Quandong lamingtons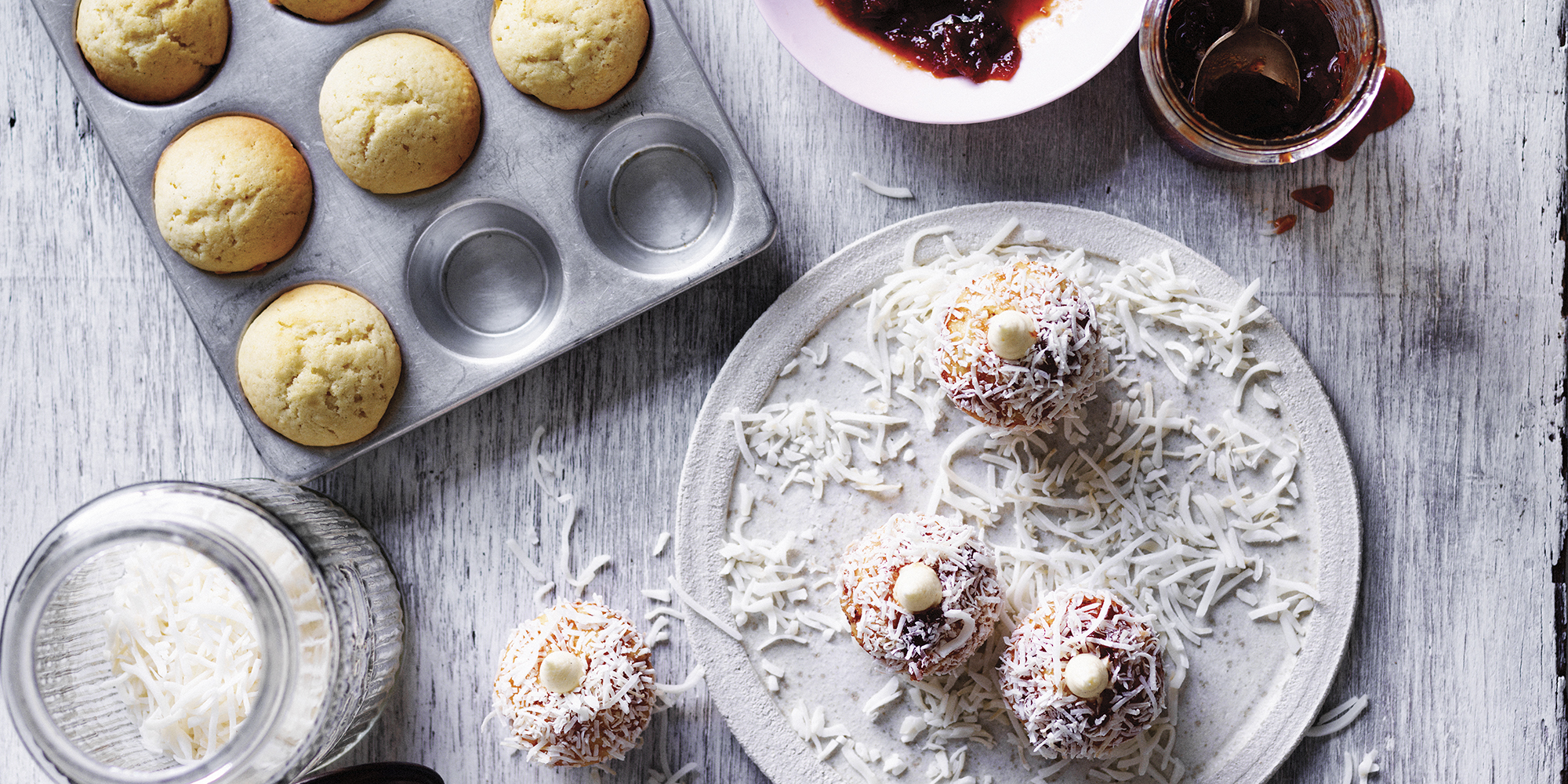 "Quandongs grow beautifully in bush settings and require very little water, which means Broken Hill is the perfect place for them to grow wildly. We are lucky enough to have several quandong trees growing across the road from where we live — they seem to love the spot and produce fruit every year. The unique flavour of quandong provides the perfect bush tucker twist on an iconic Australian favourite, the lamington. Slightly tart but sweetly delicious with an ever-so-dreamy cream cheese topping, this little beauty is so irresistible, one is never enough. Thank goodness the billy takes a long time to boil!" - Lee Robertson & Claire McCrae, Broken Hill, New South Wales
Makes: 24
Ingredients:
Melted butter or cooking spray, to grease
2 free-range eggs
¾ cup caster sugar
¾ cup milk
1 teaspoon vanilla essence
125 g butter, melted
2 cups self-raising flour, sifted
2 cups shredded coconut
Jam
¾ cup washed, seeded quandongs
¾ cup caster sugar
Topping
250 g cream cheese, at room temperature
100 g butter, at room temperature
½ teaspoon vanilla essence
¾ cup icing sugar
Method:
Preheat the oven to 180°C. Grease or spray two 12-hole patty cake tins.
To make the "jam", place the quandongs, sugar and 1 cup water in a medium saucepan over medium–high heat.
Bring to the boil, stirring to dissolve the sugar, then cook on medium–low for 40 minutes, or until the mixture resembles jam. Set aside.
Meanwhile, to make the cakes, beat the eggs in an electric mixer and gradually add the sugar, beating until fluffy. Add the milk in a slow stream, followed by the vanilla. Add the butter and flour alternately, until mixed. Do not overbeat.
Spoon the mixture evenly into the cake tins. Bake for 10–15 minutes, or until just golden.
Allow the cakes to cool in the tins for 5 minutes, then turn out onto a wire rack to cool completely.
Meanwhile, using electric beaters or an electric mixer, beat the cream cheese, butter and vanilla essence until light and creamy. Gradually add the icing sugar, beating until the mixture becomes stiff. Spoon into a piping bag.
Warm the quandong jam in a bowl and place the coconut in a separate bowl. Roll the cooled cakes in the jam and then the coconut, and place on a tray or bench top covered with baking paper.
Pipe a little cream cheese onto the top of each lamington.
Serve immediately or store in an airtight container for up to 3 days. They can also be frozen for up to 6 weeks.
How do you like to make lamingtons? Share your tips with us in the comments below.
Written by Lee Robertson & Claire McCrae. Recipe courtesy of Australia Cooks edited by Kelli Brett, published by ABC Books.
Related links:
Join Over60
Join our community of over 40,000-plus members today and get the latest Over60 news, offers and articles.
Get all the latest Over60 news, offers and articles.