Meet the women who helped Afghanistan's women's soccer team escape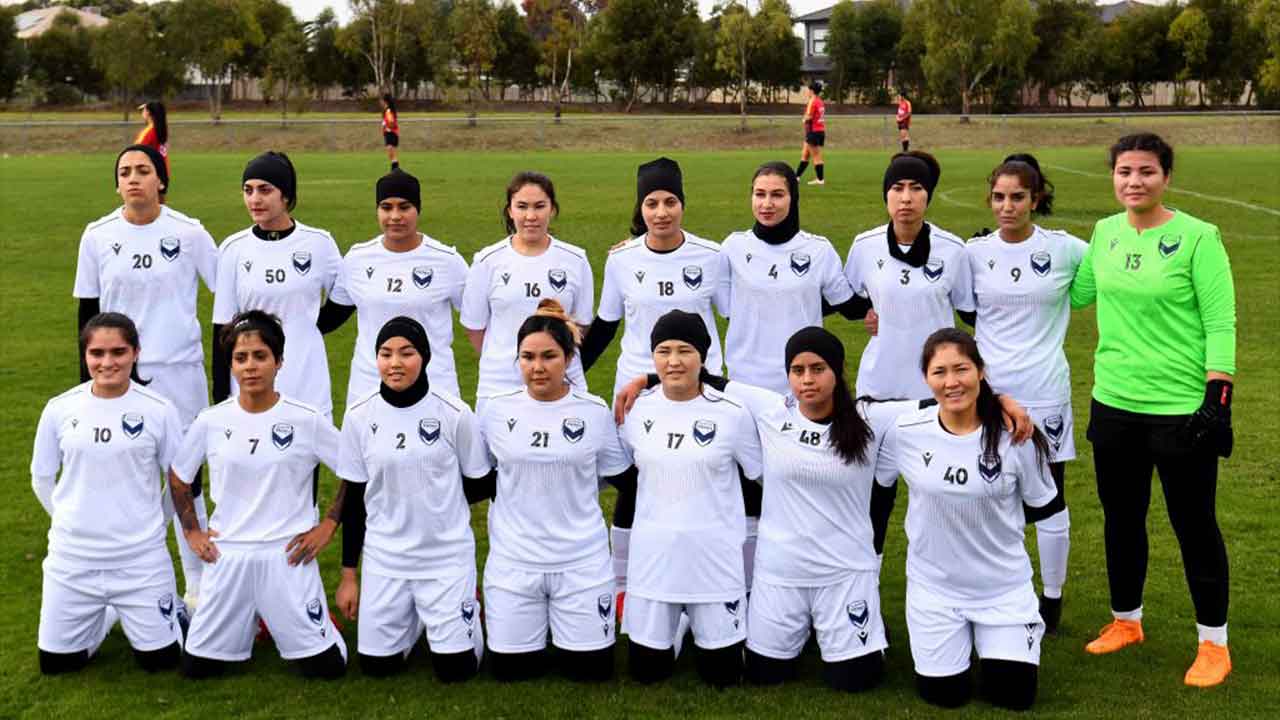 When the Taliban took control of Afghanistan in August 2021, a goalkeeper for the country's female soccer team had to make the decision whether she and her teammates should stay in their home country or leave it and their loved ones behind.
Fati, whose name and age have been withheld to protect her family's identity, played with her teammates for years, representing an Afghanistan where women had more opportunity and freedom - and was free of the Taliban's rule.
"I accepted that Afghanistan was over," Fati told the BBC.
"I thought there's no chance for living, no chance for me to go outside again and fight for my rights. No school, no media, no athletes, nothing. We were like dead bodies in our homes.
"For two weeks I never slept. I was 24 hours with my phone, trying to reach out to someone, anybody for help. All day and all night, awake, texting and searching social media."
Fati and her teammates managed to escape, thanks to an invisible, international network of women.
Haley Carter, a 37-year-old goalkeeper, former US marine and Afghanistan's assistant coach from 2016 to 2018, described it as a "little virtual operation running out of WhatsApp".
"Never underestimate the power of women with smartphones," she added.
Using WhatsApp and other encrypted messaging apps, Carter was sharing intelligence about the situation in Kabul with other marines and National Security staff in an operation dubbed 'Digital Dunkirk'.
She had been enlisted to help Fati and the team flee by Khalida Popal, a former national team captain who left Afghanistan in 2011 because of death threats over her involvement in the sport, and has lived in Denmark since.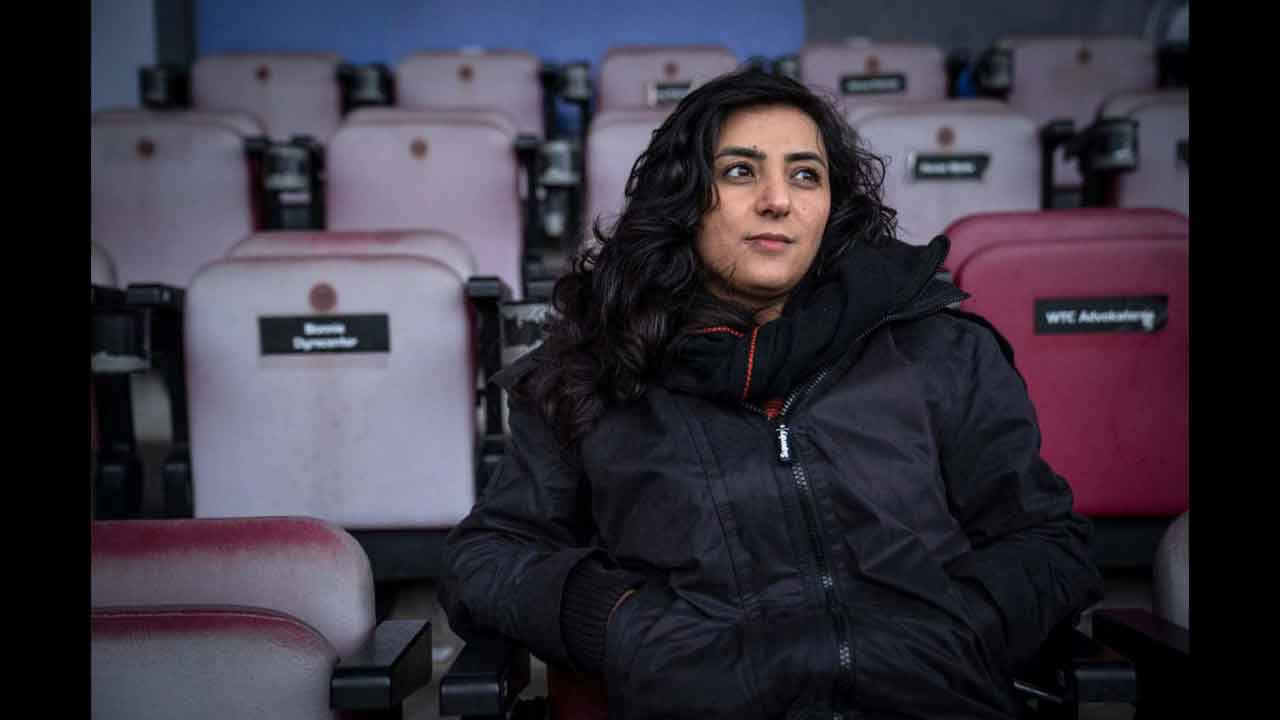 Khalida Popal knew time was of the essence for Fati and her teammates, and enlisted the help of Haley Carter to secure their escape. Image: Getty Images
With time not on their side, Popal knew Fati and her teammates had to act quickly, with their sporting involvements making them particularly vulnerable to Taliban investigations.
She told the team to delete their social media accounts, burn their soccer gear and bury their trophies - a decision Fati said was hard to do.
"Who wants to burn their jerseys?" she said. "I thought, if I survive, I will make [the achievements] again."
At the same time, Carter was working to get the team onto a military plane out of Afghanistan at the earliest opportunity.
"Khalida texted all of us saying, 'girls, be ready to leave the airport together, just one backpack each'," Fati recalled.
"She said: 'We can't tell you that we are even sure that you will go inside the airport. But if you fight, you will survive'."
When it was time to go, Fati carried as little as possible and wrote Carter's phone number on her arm in case her phone was stolen or confiscated. Carter also told Fati that they should rotate having their phones on to preserve battery life.
At the airport, they were among thousands who had congregated with the hope of leaving - but for many, the struggle would be in vain.
"If your name was not on a list, or there wasn't somebody inside the airport coming out to get you, you weren't going in," Carter said.
"So we had to work extra hard to make sure that marine counterparts at the gates had their information to make sure that they could get in."
Carter told Fati to meet "a guy" at the airport's north gate with a password that would get them in.
When they were turned back, Carter had to recalibrate the plan all the way from Houston.
Meanwhile, Fati decided she and the players would try again at the south gate - though they would have to get past the two Taliban checkpoints in the way.
After being separated from her brother - who was badly beaten - at the first checkpoint and being kicked and hit herself by men with rifles at the second, Popal's text message gave her the push to keep going forward.
"It was a thing that lighted up that darkness," Fati said. "Suddenly, there was something telling me to get back up and I started again in a strong way."
The team regrouped, taking advantage of a moment when the Taliban guards were distracted to make a dash for Australian soldiers at the south entrance.
"There were so many people but we managed to get past the last checkpoint," Fati said. "We saw the Australian soldiers and shouted phrases like, 'national team players', 'Australia' and 'football'.
"They looked at our documents and let us through."
Along with some Afghan Paralympians, Fati and her teammates boarded a C-130 military transport plane heading to Australia.
"The plane just took off and there was just noise and the fear that we had. Looking around, there were just scared faces," Fati said.
"I was thinking, you will never be able to see this beautiful place where you made memories and grew up. It's your last time."
She sent a photo and message to Carter, reading: "I made it. We made it".
"I still can't get my head around what they've been through & what they've come from but they just turn up to every session, always have a smile on their face"

For @gomvfc coach Hopkins, working with @AfghanWnt's reminded him why he got into coaching.https://t.co/vf0w0B7y8g pic.twitter.com/mT7rIcRrte

— Sacha Pisani (@Sachk0) May 27, 2022
In February, Fati and her teammates trained together for the first time, after Melbourne Victory provided facilities and coaches. She described the feeling as "amazing" and a source of "new hope" for the team.
"I've locked those smiles in my memory. And I thought, I'm successful. We will not be lost," she said.
Two months later, they played their first match against a local non-league team, though the backs of their jerseys had no names and just numbers out of concern for the safety of their relatives back home.
Though their chances of competing internationally in an official competition requires the backing of the Afghan Football Association and the Taliban, Fati still has hope.
"The goals instead will be for us to make the national teams of Australia or the country that we are in. Still we are Afghans and, somehow, we will be the representatives of our nationality," Fati said.
Image: Getty Images
Join Over60
Join our community of over 40,000-plus members today and get the latest Over60 news, offers and articles.
Get all the latest Over60 news, offers and articles.