Body language experts analyse the Queen's relationship with her grandchildren
She might be the Queen to the world, but to her grandchildren she's simply "gan-gan" or "granny".
With eight grandchildren (from her four children), we wonder what the Queen is like as a grandmother. Prince William has previously said: "She works very hard and she sees her service as important but behind closed doors, she worries and minds an awful lot about the rest of the family. She makes sure everyone is happy and finding their own path in terms of success."
And body language experts back up Prince William's assertion, with Susan Constantine, human behavioural expert and author of The Complete Idiot's Guide to Reading Body Language, telling GoodHousekeeping: "It's incredible how attentive, hands-on, and engaging she is given the fact that she has a royal rulebook to follow."
Captured in the early 1990s, this video of Her Majesty with Zara Phillips, Prince William, Prince Harry, Princess Beatrice and Princess Eugenie at Balmoral in Scotland shows the Queen being a typical grandma.
"This particular instance is striking because she throws her 'royal body bubble' out the window and gets close with her grandkids," Patti Wood, body language expert and author of SNAP: Making the Most of First Impressions, Body Language, and Charisma tells GoodHousekeeping.
"Normally, we see the Queen in front and a few steps ahead of everyone else but here, she steps back and lets the kids lead the way," Wood continues.
When the whole family is together however, it's clear the Queen is in charge. While taking the official royal Christmas photo in 1990, the Queen is the one that shoos the photographers away and put her grandchildren in place.
"The mums – Duchess of York and Princess Diana – step aside and let the Queen take over the parenting role, which is interesting to see," says Constantine.
But the Queen has always had a close relationship with her grandchildren – and now, great-grandchildren.
Just look at her with her very first grandchild – Peter Phillips. "Her movements such as bending forward and reaching out her hand are purposeful," explains Constantine. "She wants to be connected to the newborn but the royal standards simply hold her back from being as affectionate as she'd like to be."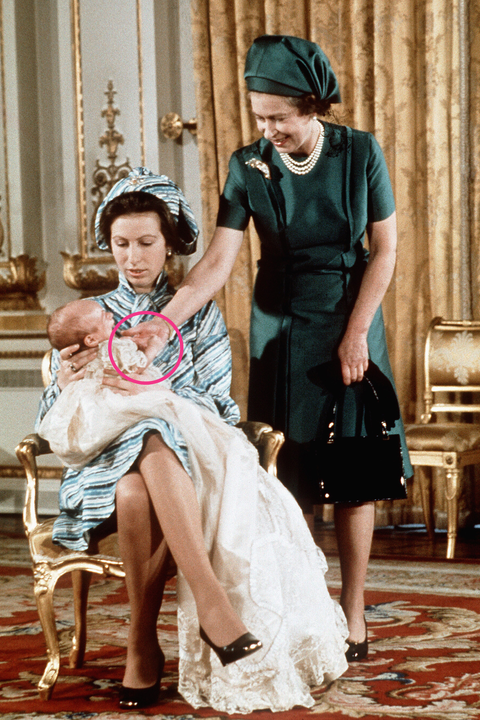 Or this adorably casual moment with Zara Tindall in June 1984.
"You can sense just how relaxed the two of them are. It's evident that the Queen isn't afraid to show emotional connection despite the public setting," Constantine says.
"The physical closeness between the two is a type of 'heart intimacy,' which is a telling sign of their close bond," adds Wood.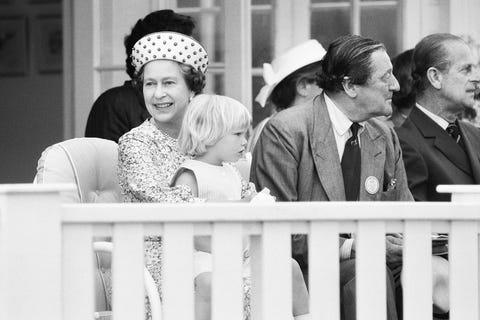 These close relationships have continued as the grandchildren have grown into adults.
The Queen's pursed lips when she goes in for a peck with her grandchildren actually has positive meaning behind it.
"To feel close to someone and allow the body to completely focus on the moment, people may tightly close their eyes or lips," explains Constantine. "Here, the Queen's pursed lips indicate that she's deep in thought and feeling strong emotion."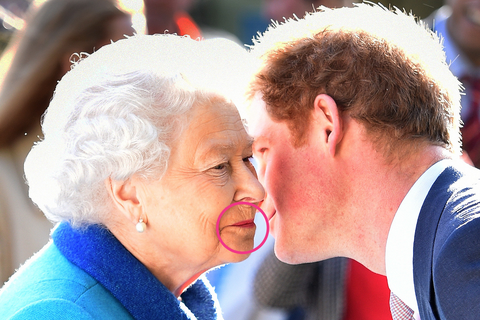 And even though the Princess Beatrice of York isn't a working royal, it's clear that the Queen still loves her granddaughter, as evidenced by both their wide smiles.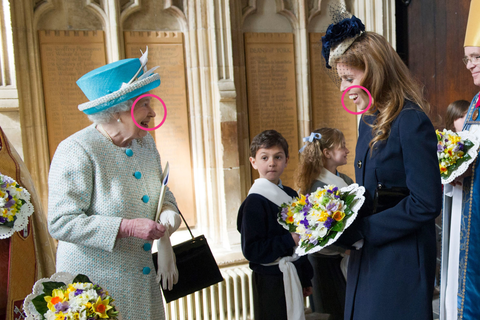 "Beatrice, in particular, has all teeth on deck," Constantine tells us. " Even while putting on her gloves, the Queen is looking directly at her granddaughter and completely engaging in the moment."
Ultimately, although the Queen may have an unconventional relationship with her grandchildren, she dearly loves them.
"Their relationship, while different than the idealized concept, may be peculiar to us but it's their normal," explains Wood. "Regardless, there's a genuine joy in her face when she's with her grandchildren and that's all that matters."
Join Over60
Join our community of over 40,000-plus members today and get the latest Over60 news, offers and articles.
Get all the latest Over60 news, offers and articles.