Daughter takes 85-year-old father's life savings: "I never dreamt that she would do it"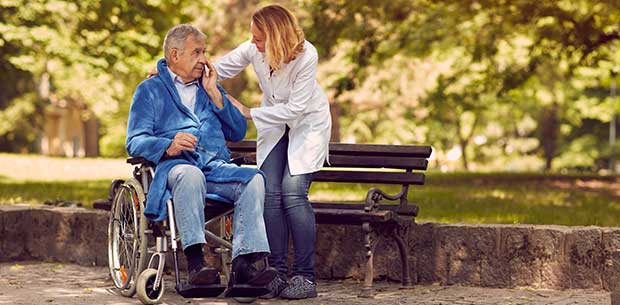 When Ray Thomson lost his life savings, he also lost the daughter he thought loved him the most.
"I was led to believe she was doing everything for me. She was alright but she was doing everything for herself - with my money," he says.
Over two years, Thomson's daughter Helen Williams robbed her father of everything he had, cleaning $320,000 out of his bank account, leaving him with just $20.
The blind man now lives in a rest home, in a single, sparsely decorated room, a transistor radio among his meagre possessions.
In January, Williams was sentenced to 12 months' home detention for her deceit, a crime she says was motivated by a gambling and drug addiction.
Thomson can't talk about what his daughter did without breaking down. She was going to get half his money when he died but she couldn't wait, Thomson says - her "plain greed" got in the way.
"I never dreamt that she would do it. I was completely taken in by it and by the time I had woken up to what happened, it was too late.
"As far as I am concerned she's not my daughter."
The first inkling Thomson got of there being a problem was when the council got in touch about his rates account being in arrears.
He remembers being taken by surprise. "I've never owed anyone in my lifetime," he says.
When he checked with his daughter, he says she reassured him there had been a mistake, that there was nothing to worry about.
As power of attorney, she was able to withdraw money from his account at will and while she spent it paying back her own debt, grocery bills and on a trip, her father went without. On one occasion Thomson had no hot water for six weeks as his unpaid bills mounted up.
'She cut me off'
During the time she stole from him, his daughter was a constant presence in Thomson's life. She made sure she was often the only person he would see for days.
"Every time she was at my place - she'd be there most times - she told everyone that I was not there. She cut me off from anyone that I knew," he says.
Williams went to extraordinary lengths to keep her father in the dark about what she had been doing, reassuring him constantly and even intercepting the mail.
But when the money ran out, Thomson's lawyer turned up with the news he had just $20 to his name.
His life suddenly revealed to be in tatters, Thomson was forced to sell his house and move into a rest home.
"I still think back on the episode and about what's happened but I will never forgive her for what she's done to me."
He says people who prey on the elderly "should be disgusted with themselves."
Thomson says even if family are involved in helping out, his advice to others is to be wary and ask questions if something is amiss.
"Be cautious, be on the alert."
"You don't expect those sorts of things to come from your own family."
Have you ever encountered something like this?
Written by Deena Coster. Republished with permission of Stuff.co.nz.
Join Over60
Join our community of over 40,000-plus members today and get the latest Over60 news, offers and articles.
Get all the latest Over60 news, offers and articles.