President Donald Trump grilled in 60 Minutes interview: "I'm not a baby"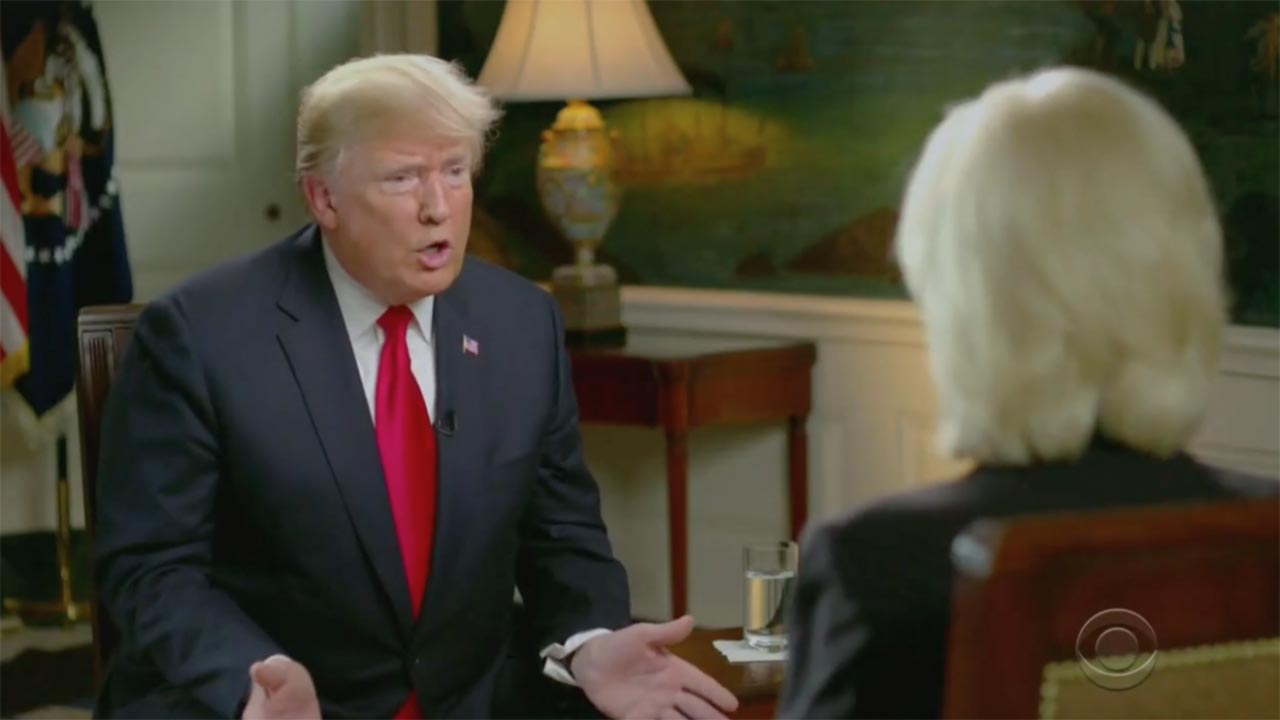 US President Donald Trump has faced some tough questioning in an interview with the US's 60 Minutes program, which airs on the CBS network. Journalist Lesley Stahl grilled the President on everything from his close ties with North Korean leader Kim Jong-un, Russian interference with the 2016 election, and the cutthroat nature of Capitol Hill.
In a sign of his tumultuous presidency, that has been filled with scandal and the resignation of several cabinet members and advisers, the commander-in-chief said he mistrusted some of his staff, and called Washington DC "a vicious, vicious place," reports news.com.au. "I don't trust everybody in the White House, I'll be honest with you," said Mr Trump.
"I'm not a baby. It's a tough business. This is a vicious place. Washington DC is a vicious, vicious place. The attacks, the badmouthing, the speaking behind your back.
"I have some people that I'm not thrilled with. And I have other people that I'm beyond thrilled with."
When questioning turned to President Trump's close relationship with North Korean dictator Kim Jong-un, he was unrepentant about his recent comment that the pair "fell in love".
"And then we fell in love, OK? No, really. He wrote me beautiful letters. And they're great letters. We fell in love," he said at a recent political rally.
Stahl took Mr Trump to task on the statement, reminding him of the Supreme Leader of North Korea's shocking and cruel acts.
"I want to read you his resume," said the journalist. "He presides over a cruel kingdom of repression. Gulags, starvation, reports that he had his half-brother assassinated, slave labour, executions — this is a guy you love?"
Lesley Stahl on Kim Jong Un: "He presides over a cruel kingdom of repression, gulags, starvation…slave labor, public executions. This is a guy you love?"
President Trump: "I know all these things… I get along with him, okay? … Let it be whatever it is to get the job done." pic.twitter.com/J6Gbuns2t6

— 60 Minutes (@60Minutes) October 14, 2018
"I know all these things. I mean, I'm not a baby. I know these things," said the President. He put his recent remarks down to "a figure of speech".
"Look. Look. I like, I get along with him, OK?" he said.
It seems the pair have gotten over the acrimony which involved threats of nuclear attacks and name calling.
"I believe he likes me. I like him," said Mr Trump. "We have a good relationship."
"I do trust him. I trust him. That doesn't mean I can't be proven wrong."
On Russian interference in the 2016 election, the President admitted that "they meddled. But I think China meddled too," he said. "I think, frankly, China is a bigger problem."
He said that he had taken a "tough" stance with Russian President [check] Vladimir Putin over the matter, despite claims he'd avoided the accusations of political tampering.
"I think I'm very tough with him (Putin) personally. I had a meeting with him. The two of us. It was a very tough meeting and it was a very good meeting."
Of the investigation into Russian interference in the election and possible collusion with US officials, Mr Trump said it was "very unfair".
"There was no collusion of any kind," he said. "There is no collusion."
In a rare moment of humility, President Trump admitted that he had made some missteps during his tenure so far, saying, "Everybody makes mistakes."
He reiterated his scathing attack on Washington DC and its hard-bitten politicians as another learning curve since winning the top job, comparing the environment to the tough world of Manhattan real estate, a world he knows all too well.
"I always used to say the toughest people are Manhattan real estate guys. Now I say they're babies," said Mr Trump.
"This is the most deceptive, vicious world. It is vicious. It's full of lies, deceit and deception."
And again President Trump lashed out at media outlets that have questioned and criticised his presidency, calling them "dishonest".
"I never knew how dishonest the media was. I really mean it. I'm not saying that as a sound bite," he said.
His antagonistic relationship with the media was apparent when he arrogantly dismissed Stahl's probing on the issue.
"Lesley, it's OK. I'm president and you're not."
Did you learn anything new about the US President from his latest interview? Let us know in the comments below.
Join Over60
Join our community of over 40,000-plus members today and get the latest Over60 news, offers and articles.
Get all the latest Over60 news, offers and articles.