"The most terrified I've ever been in my life": Passengers hurt as cruise ship tilts 45 degrees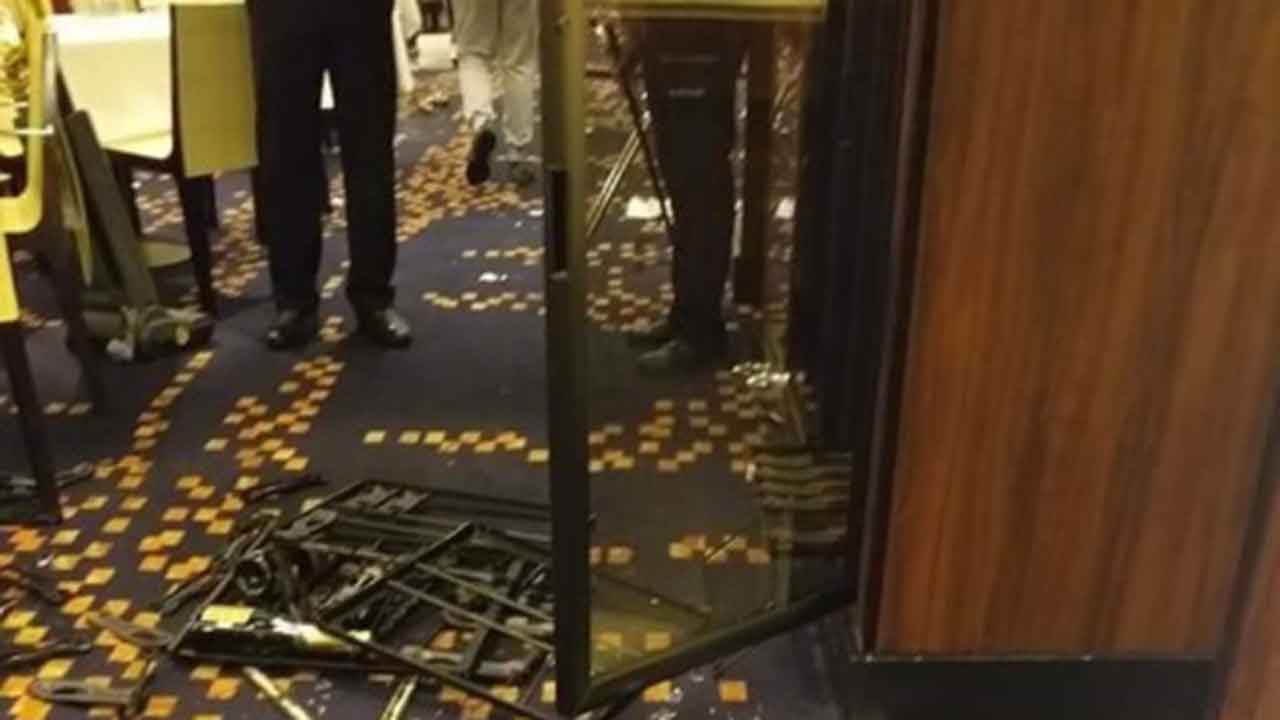 The Norwegian Cruise Liner which tilted on a "45-degree angle," on Sunday night, according to one cruiser, is blaming the incident on a strong, sudden gust of wind.
The Norwegian Escape began slanting over at roughly midnight, shocking passengers who were enjoying their trip in the piano bar.
"Just before midnight on Sunday, March 3, Norwegian Escape encountered unexpected weather in the form of a sudden, extreme gust of wind, estimated at 100 knots, which resulted in the ship heeling to the port side," the cruise line wrote in a Twitter post.
"Several injuries were reported, and those guests and crew received immediate attention or are being treated by the ship's medical staff," the statement continued.
The ship, which is capable of carrying over 6,000 people, says it was pushed suddenly by a gust of wind about 185km – a burst similar to that of a wind from a Category 3 hurricane.
The cruise line said the ship sustained no damage during the incident.
Not only passengers of the vessel were injured, crew members were also wounded, but the exact amount has not been disclosed.
American publication WESH reports around a dozen ambulances were at a Port Canaveral, Florida port on Tuesday morning when the ship arrived back to shore.
Aaron Black, one of the cruisers onboard, told CNN he was at the piano bar on Sunday night when the ship started to slope. Tables, chairs and even passengers slid across the room, as other terrified passengers watched.
In a video Black recorded, screams, shattering glass and items sliding and being thrown by the wind can be heard.
"I remember thinking about how calm it was for sailing out of New York in March and suddenly we got hit by a large gust of wind and the whole ship kind of just tilted to the side for about 30 seconds," he said in a video he recorded from aboard the ship Tuesday afternoon.
"Suddenly everything around me was starting to move.
"I was used to some movement, but it was a very surreal escalation to, 'Oh this is normal' to, 'This is very unusual and probably shouldn't be happening,'" he said, explaining he had been on many cruise ships before.
Honestly, @CruiseNorwegian, the gust of wind that threw all of the shattered glass all over my bed and floor is all on mother nature, but where my pro-rated premium plus discount for all the bottled water I was going to drink tonight? #norwegianescape #nclescape

— AJ Black (@aaronjosef) March 4, 2019
Passengers on the Escape shared their terrifying experience onboard the vessel Sunday night, reporting damage to interior cabin and common areas of the ship.
"The scariest s---t just happened on this cruise. Chairs, tables, glass, people went flying to one side of the ship," one passenger wrote.
"Everything in our room falling and sliding ...I have never been so scared in my whole life," Samantha, another cruiser wrote in a Facebook post.
"All the plates and glassware smashed on the floor. A lotto machine fell on a lady. Blood everywhere.
"Hands down the most terrified I've ever been in my life. Can't wait to hit solid ground..."
Photos from inside the ship also show glass and debris on the ground, as well as passengers running away from the indoor pool area, which showed tilted water.
"There's no exaggeration on statements and pictures posted online. Ship was like at 45 degrees angle … freaked out everyone … but they said it was normal lol," claimed a separate passenger.
The ship is due to stick to its schedule on its next voyage on Tuesday for the Bahamas, the cruise line reports.
Have you ever been on a cruise during rough conditions? Let us know in the comments below.
Join Over60
Join our community of over 40,000-plus members today and get the latest Over60 news, offers and articles.
Get all the latest Over60 news, offers and articles.