Can you spot the bizarre item on this in-flight menu?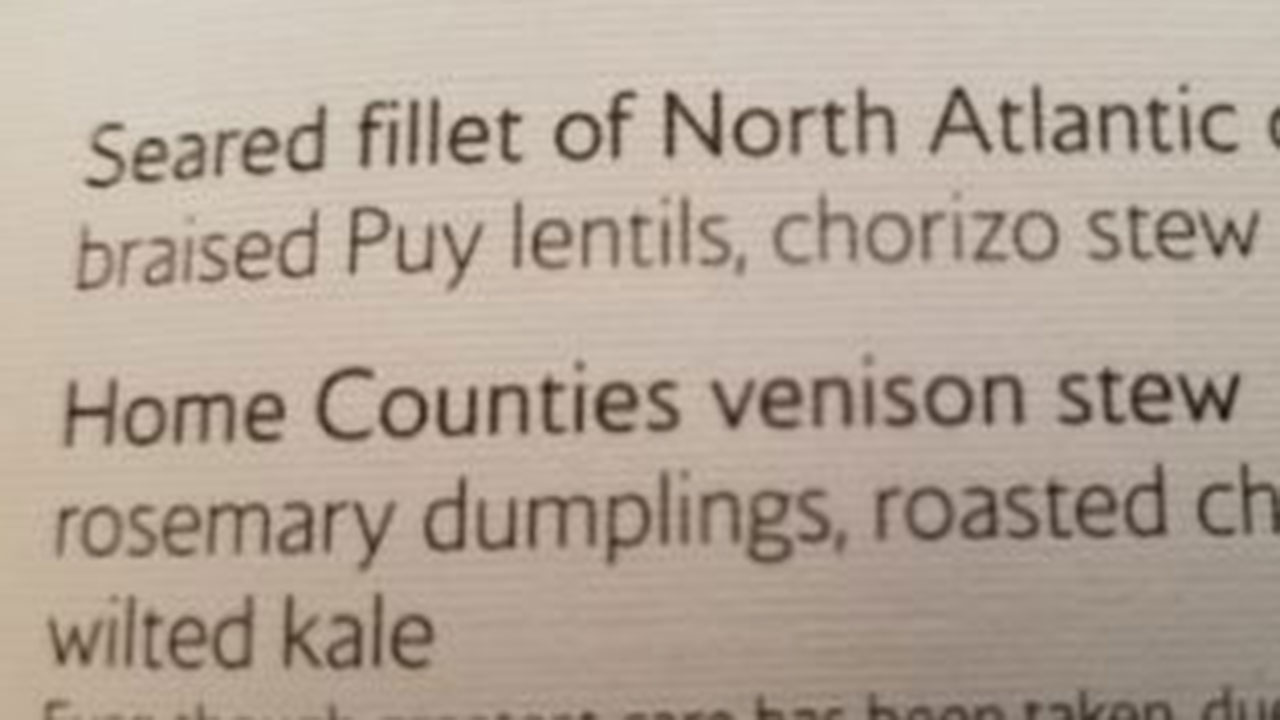 British Airways has shocked a passenger aboard a flight with a bizarre warning.
Michael L. Brown was perusing over the in-flight menu when he noticed an unconventional message written in fine print.
You've got to be kidding me. From the British Airways in-flight menu from London to Chicago. pic.twitter.com/lfecoXAllk

— Dr. Michael L. Brown (@DrMichaelLBrown) December 9, 2018
It's common for meals to come with words of caution, whether it be allergens or raw food. But one thing that many don't come across is a warning for bullet fragments.
The menu featured a dish called "Home Counties venison stew" and the text written below said: "Due to the nature of the product, there is a very small risk of bullet fragments that could be found in this meal."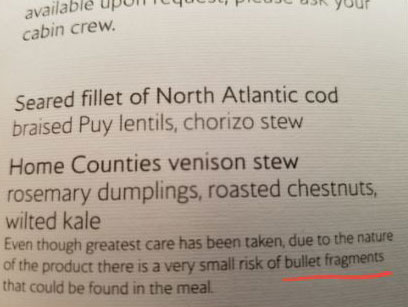 Photo: Twitter @DrMichaelLBrown
Speaking to The Sun, Mr Brown said, "I travelled first class from Mumbai to Heathrow, and this item definitely wasn't on the menu.
"On my second flight from Heathrow to Chicago I noticed this item on the menu."
When Mr Brown raised his concerns with staff members, they were surprised and amused by the warning.
"The two flight attendants I spoke with had never seen or noticed this before but got a good laugh out of it," he said.
"One joked with me that this warning could be so all Americans on board couldn't sue them. I told them he could well be right."
But despite Mr Brown's surprise, many users on Twitter claimed that the warning is fairly common.
If we buy wild rabbit from Argentina here in Germany you´ll find everytime the information, that there is a small risk of bullet fragments.

— Darius Tremel (@Musicmaker2011) December 13, 2018
Venison is deer. Maybe they source their deer from local butcher shops/hunters? We live in MS. My husband is a military man of 15 years from Ok. That's not weird to me 🤷🏻‍♀️

— Sis Latta (@cryslatta) December 9, 2018
Pretty normal if you've ever hunted birds, although it's not bullets, it's shotgun beads 😁

— Randy Turnbow (@BigRedCurlyGuy) December 9, 2018
Usually phrased as buckshot on menus here in the UK and certainly not unusual to see it called out. However, it is a note-worthy inclusion for an in-flight menu, I certainly can't recall it on @British_Airways before.

— Benn Glazier (@bennglazier) December 12, 2018
"These warnings are there as a precaution, and are common practice," a spokesperson for British Airways told
Yahoo Lifestyle
.
"We source the best British ingredients for our inflight menu and this is no exception."
Join Over60
Join our community of over 40,000-plus members today and get the latest Over60 news, offers and articles.
Get all the latest Over60 news, offers and articles.