Travelling couple share their cruise experience amid Omicron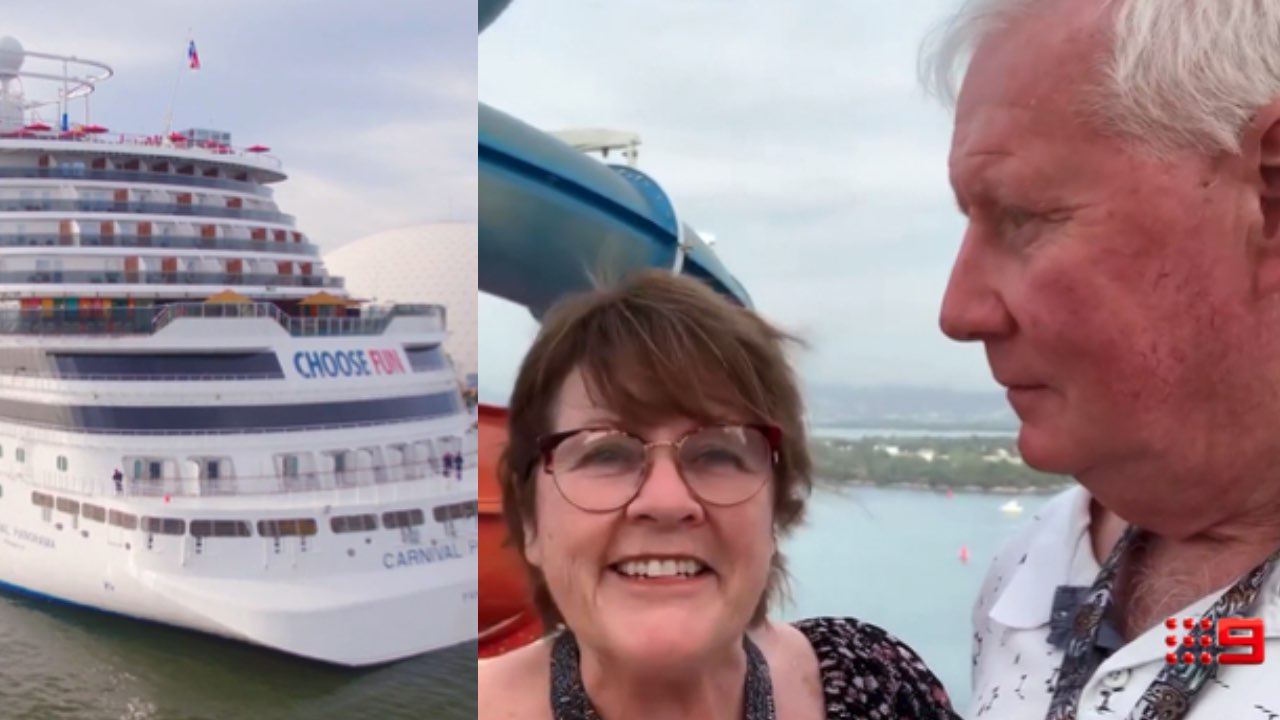 A couple from Queensland have decided to not let the current wave of Omicron get the best of them and their plans to travel the world.
Ed and Patrea Stuttard left their home on the Gold Coast after Christmas to fly to the US and board their first cruise in nearly two years.
The retirees are now sailing around the waters of Mexico, and are currently on cruise number three of the six they have planned.
The pair are avid cruise-goers, having racked up an impressive 49 voyages before they departed on their current journey.
"We just love being on the ocean and just love everything it offers and having had it taken away for nearly two years is really tough, you know, when you're retired. It's just taken away something that we really love," Mrs Stuttard told A Current Affair.
The couple decided to document their recent trip to show other travellers how life on board has changed since the Covid pandemic.
They are both hoping the cruising industry back home in Australia soon lifts the two-year ban on international voyages.
"That's why we decided to fly out and have New Year's on board a cruise ship, leaving for America. There were no options at home and we can't understand why," Mr Stuttard said.
"They are opening up hospitality, they are opening up music venues but they are ignoring the cruise industry and that's just criminal."
Both Mr and Mrs Stuttard had to show proof of their double vaccination status before being let on board, as well as returning negative Covid tests.
"We had our third shot so we actually feel safer here than we do in our local mall and they are continually reminding people to put on their mask," Mrs Stuttard said.
Cleaning protocols on board are endless, with cleaning staff everywhere to make the ship as safe as possible.
"We were joking with people earlier today that if you stand still long enough, they'll come and sanitise you. Anything that doesn't move is being wiped down daily," Mr Stuttard said.
With life on the waters of Mexico a world away from Australia's current Omicron wave, there is no current plan for the Federal Government to kickstart the cruising industry.
Joel Katz from Cruise Lines International Association said Australia desperately needs a plan to get back on the water.
"We're saying, 'let's start off with local cruising, carrying locals only', while we still have questions about international tourism," Mr Katz said.
He said, "From the early days of the pandemic, the industry has been working with medical experts and epidemiologists to develop the most comprehensive COVID safe protocols out of any sector of travel and tourism."
While the waters of Australia remain closed for cruising operations, the Stuttards will remain overseas to continue their care-free life at sea.
Image credits: A Current Affair
Join Over60
Join our community of over 40,000-plus members today and get the latest Over60 news, offers and articles.
Get all the latest Over60 news, offers and articles.