The apartment in Kensington Palace being renovated for Harry and Megan

As Harry and Meghan's royal wedding draws closer, preparations for their big day are not the only arrangements they've had to focus on.
Renovations in Apartment 1 in Kensington Palace have been underway since November, prior to their official engagement announcement, in order to have Harry and Meghan's future family home ready.
The 21-room apartment, which is next door to William and Kate, has been undergoing work at a lightning quick rate.
Photos show the apartment covered in white tarpaulins with new mortar pointing over the chimney stacks clearly visible.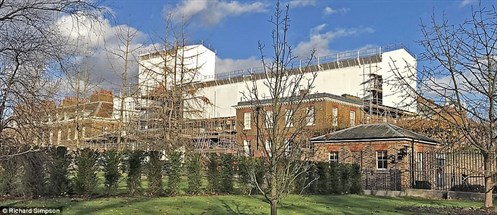 Harry is reportedly very excited to have the renovations finished and move in with Meghan.
"He keeps popping round and asking when it will be ready. He seems in a real hurry to move in with Meghan," a source said.
According to reports, Meghan has asked Harry to give up smoking and cut down on alcohol, so they can start a family soon – which meant the pair needed a larger home than their previous two-bedroom cottage.
Soon after Harry and Meghan's engagement, the Queen's cousin Richard, the Duke of Gloucester, offered to vacate the luxurious Apartment 1 as his three children have grown up.
The Gloucesters will downsize into a smaller apartment which will soon be vacated by the Queen's private secretary, Sir Christopher Geidt.
Royal courtiers revealed last year that the couple would immediately be living at Nottingham Cottage in Kensington Palace, but insiders have known for some time that he would be relocating to Apartment 1.
When Harry and Meghan move in, they will be neighbours to his brother William, who lives in Apartment 1A with his family.
Kate and William also lived at Nottingham Cottage before they had children.
Several years ago, a royal spokesman said that Harry had his sights on different accommodation at Kensington Palace but refused to confirm which apartment it was, other than revealing that it was currently occupied.
In 2014, Princess Michael suggested in an interview that Apartment 1 would be perfect for Harry to move in to when he got older and wanted to have children.
Princess Michael said Wiliam and Kate have a "lovely big apartment, next to the Gloucesters, who I think will leave their enormous apartment because their children have gone."
She added, "They're rattling around this huge space and I think Prince Harry might go there. Then they'd be next door to each other – very good move."
Apartment 1 and Apartment 1A are linked by adjoining doors which will make visits between the royal brothers very convenient.
Earlier this year, there were suspicions that Harry had chosen Apartment 1 after a line of fir trees were planted to obscure the view of the apartment's entrance from the public walking through Kensington Palace Gardens.
It is believed that Meghan now walks her dogs on the grass behind the trees, which is now obscured from public sight.
The Duchess of Cambridge is also known to use the same stretch of grass to walk the family dog Lupo.
The couple will also be sharing quarters with Princess Eugenie who lives at Ivy Cottage, a three-bedroom property.
Join Over60
Join our community of over 40,000-plus members today and get the latest Over60 news, offers and articles.
Get all the latest Over60 news, offers and articles.