5 of the funniest tweets from actor Sam Neill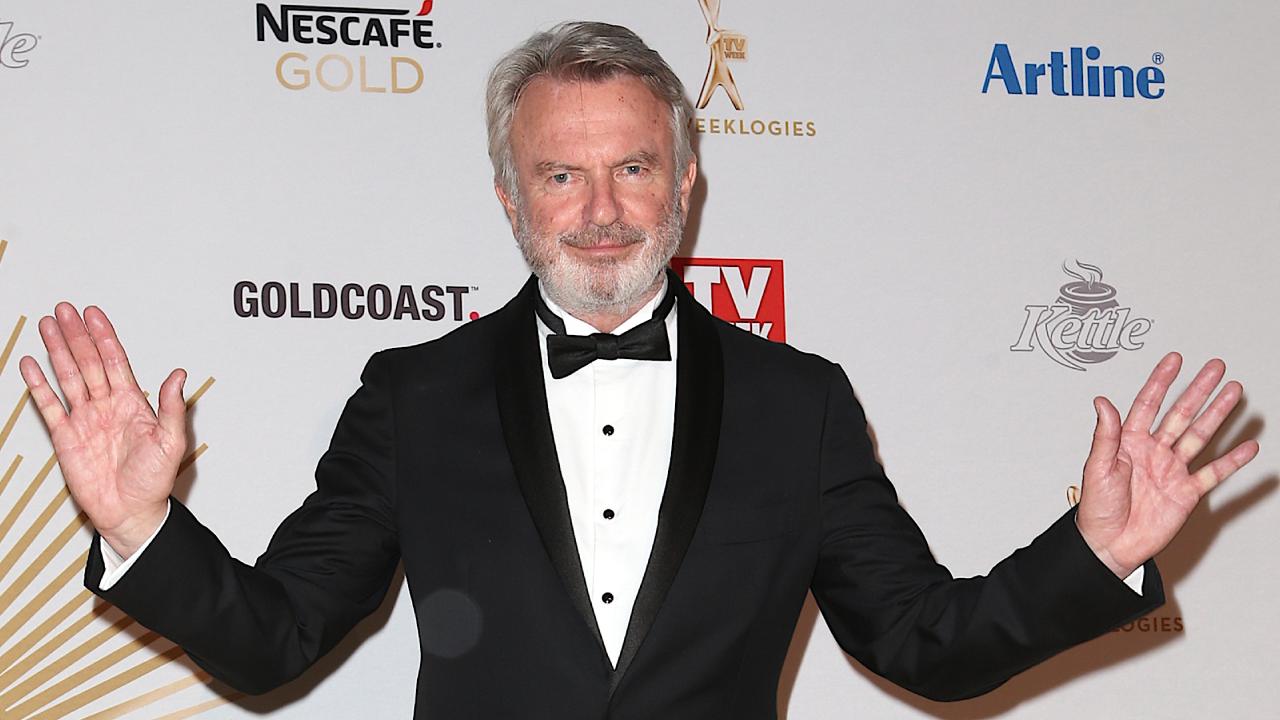 Actor and wine maker Sam Neill has taken to Twitter with ease, much to the delight of his fans and other celebrities.
The Jurassic Park actor frequently documents life on his farm with his animals that have names of celebrities as an "insurance policy".
"It doesn't always end well," he told Vulture.
"Meryl Streep was killed by a ferret recently … Hugo Weaving was another unfortunate end, but he died happy. He was a ram. He was doing what rams do — he fell off the back of a female sheep."
He also shares videos of his grandson, as seen below.
1. Sam playing with his grandson
My grandson . Hilarious . Great kid . Don't worry ...picks himself up, laughs and back into it . pic.twitter.com/cyuOOHfztO

— Sam Neill (@TwoPaddocks) 26 April 2019
This is a popular tweet by fans, but you have to watch until the end to really appreciate it.
2. Getting angry at James Corden for being a "murderer"
Sam Neill played Mr McGreggor in the reboot of Peter Rabbit, who met an unfortunate end thanks to Peter, who is voiced by Corden.
He let his anger be known in the tweet below, calling Corden a "murderer" and that he has "no idea why HE'S [Peter Rabbit] the hero & not old Mr.McG."
Spent this morning listening to the excellent @JKCorden as Peter, voicing the Badger for #PeterRabbit2. I couldn't be Old Mr. McGregor again because ...well...he died . Peter Rabbit's fault. No idea why HE's the hero & not old Mr.McG. Peter Rabbit MURDERER ! pic.twitter.com/ubx5jV9U1A

— Sam Neill (@TwoPaddocks) 18 July 2019
3. This selfie with a "random fan"
Neill makes a point for his twitter feed to be humorous and refreshing as he "enjoys Twitter".
He told The Cut about how he got started on the platform.
"They [co-workers in Two Paddocks office] told me that social media was important," he said.
"I'd never heard of it. I started Facebook, but I didn't like it at all. It filled me with existential dread.
"But I found I enjoyed Twitter. The economy of 140 characters was really appealing; every tweet was like a lame haiku".
Although he usually posts photos and videos of his farm animals, he made an exception for a selfie with a "random fan". The fan just so happens to be Chris Hemsworth.
Yours truly plus random fan .#ThorRagnarok @TaikaWaititi took this as best I remember. pic.twitter.com/aU1nW1B8bI

— Sam Neill (@TwoPaddocks) 10 October 2017
4. Singing with pigs
As Neill lives on a farm in Otago, New Zealand, he has "so many free-range animals that they're almost feral".
He shared with his Twitter followers a "duet" with his pig.
Singing With Pigs. My old pig friend is always up for a duet . Its more his kind of song really . Took me years to learn Pigsong . It's paid off bigtime. pic.twitter.com/a3mprZ6AMR

— Sam Neill (@TwoPaddocks) 26 January 2019
5. Getting mistaken for Hugo Weaving
Although people might recognise Sam Neill from somewhere, it's clear that not many know who he is.
Neill documented an experience with a fan saying that he's Hugo Weaving.
LIFE IN THE CITY
Coming out of my local with a coffee this morning , a bloke with a dog yells "Are you an Actor ?'
"Yes' I say.
"Who are you then ? " he says
"Hugo Weaving" I reply
"That's right..apparently you're good"
"Not really" I mutter as I walk away pic.twitter.com/00lt7jJBA2

— Sam Neill (@TwoPaddocks) 2 July 2019
Join Over60
Join our community of over 40,000-plus members today and get the latest Over60 news, offers and articles.
Get all the latest Over60 news, offers and articles.