Local croc becomes childrens' book star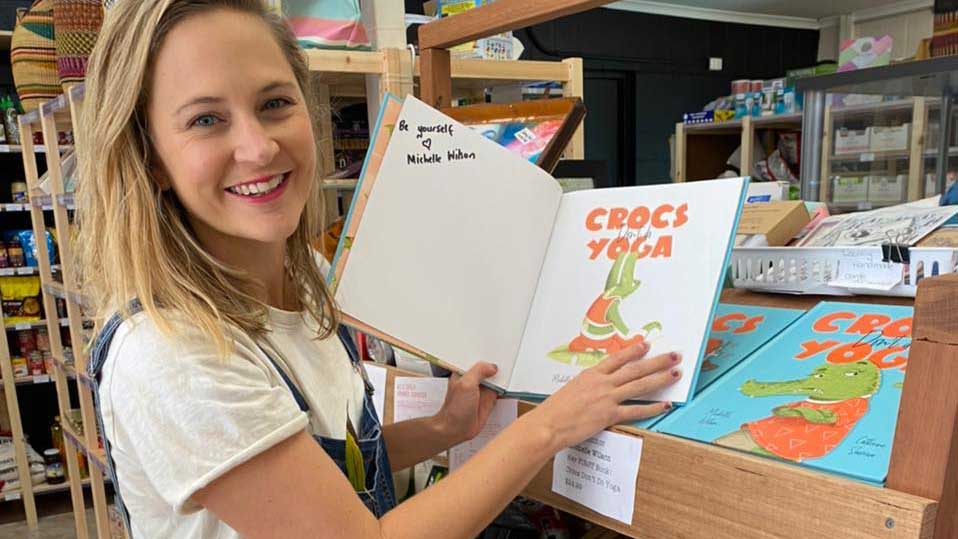 A crocodile living in Constant Creek in North Queensland has become a video sensation, with footage of the reptile racking up hundreds of thousands of views on social media and prompting a local author to write a book on the creature.
"I reckon he's one of the most-filmed crocodiles in Australia," local boating enthusiast Shannon Burke said.
"A lot of the older fishermen that have been there definitely know him," she said.
The many trips author and primary school teacher Michelle Wilson would take up and along Constant Creek inspired her to include the well-known croc as the main character in the children's book Crocs Don't Do Yoga.
"My mum and daughter were playing a weird game one day to be crocodiles snapping at each other," Ms Wilson said.
"And I don't know what happened but I just came up with the character, Connie the Croc from Constant Creek.
"At the same time I was doing a lot of yoga, so I just married the two concepts together."
The book tells the story of a snappy crocodile that can't control its anger – until some friends from Constant Creek suggest yoga.
When it came to publishing her book, Ms Wilson said it was difficult to know where to start.
"It's a pretty saturated market, you've got a lot of excellent writers and celebrities writing [kids' books]."
Locals are happy enough seeing their favourite reptile receive even more recognition.
"The fishermen all seem to love and respect him," Ms Burke said.
"I've got a lot of friends that backpack and one of their first questions is, 'Where's the best place to see crocodiles?'
"One of our local creeks just north of Mackay is one of the best places to go."
Despite the relaxed nature of Constant Creek's reptile resident, the Queensland Department of Environment urges people to be "Crocwise" when encountering them, by reporting sightings, staying away from the water's edge and avoiding feeding them.
Image: Michelle Wilson / Facebook
Join Over60
Join our community of over 40,000-plus members today and get the latest Over60 news, offers and articles.
Get all the latest Over60 news, offers and articles.